Beginning in 2020, qualifying school employees throughout the State of Washington are being offered the same list of health benefits through the School Employees Benefits Board (SEBB).
For many school employees that choose to add family members to their health plan, this is likely a favorable change – at least financially. To those that choose a plan for only themselves, the benefits are likely less.
At Assurance Healthcare & Counseling Center, our goal in the future is to be able to be formally inserted into a state-wide plan like the SEBB plan, where individuals and families can choose to include a membership-based primary care doctor (direct primary care) as part of their overall plan. Direct Primary Care (DPC) plans have lowered overall health costs, helped improve health outcomes, and offer much better accessibility to health professionals.
But, for now, here is how we would help navigate these plans if you are a school employee in Yakima County…
What to Avoid: Kaiser Plans
All Kaiser plans are considered "Managed-care plans." While the price is attractive, and some of the benefits may sound good, here are the facts:
You HAVE to choose a primary care provider in their network. In large cities, this may not be a problem, but in Yakima County, the number of physicians accepting new patients from these plans is on the decline.
These care plans are also very restrictive when it comes to specialty care, where they may not pay for any out-of-network specialist provider.
In short, steer clear of Kaiser plans – especially if you want to pair your plan with Assurance Healthcare & Counseling Center (or another DPC clinic).
Option 1: UMP High Deductible Health Plan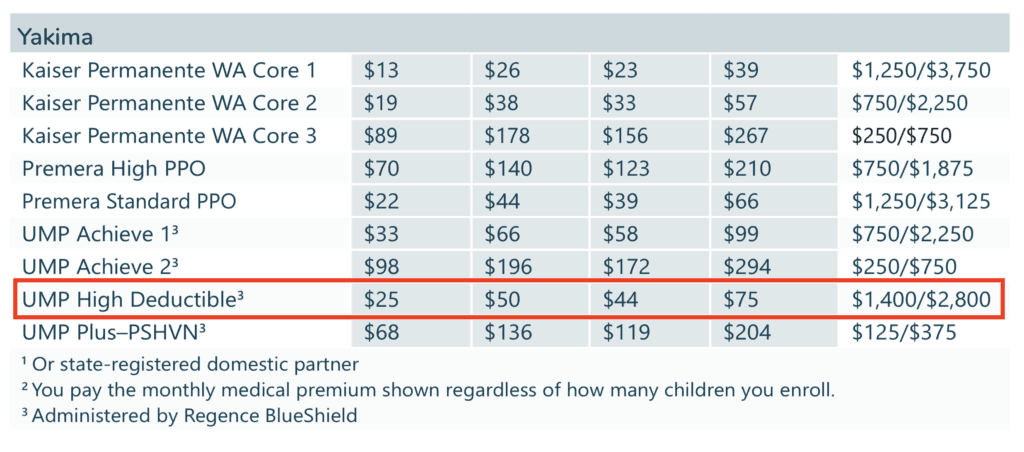 This is the one plan that offers a Health Savings Account (HSA) alongside the health insurance plan. Compared to our Option #2, this is only an extra $3 per month as an individual ($9 for a family), but the State will contribute $375 per year ($750 for couples / families) into an HSA account. This money can be applied towards your deductible or any other medical costs, and is yours for life.
Here's the caveat…
There are exemptions to qualifying for this plan (at least for having the HSA account attached to it). One of them is:
"You are enrolled in another health plan that is not an IRS-qualified high-deductible health plan (HDHP)"

Directly from the SEBB Enrollment Guide
Nearly every other entity or law written recently about healthcare (the Department of Health, the Affordable Care Act, and more) has claimed that DPC is NOT a health plan (we're not health insurance, nor are we trying to be). The IRS is the one entity that does not yet have a clear definition for DPC, and therefore is by default considering us a health plan. THIS COULD MEAN POSSIBLE DISQUALIFICATION FROM A HEALTH SAVINGS ACCOUNT.
There's a possible change to this… but it is 'possible' – not definite. It came from the "Executive Order on Improving Price and Quality Transparency in American Healthcare to Put Patients First" released on June 24th, 2019. In this executive order, President Trump writes,
"Within 180 days of the date of this order, the Secretary of the Treasury, to the extent consistent with law, shall propose regulations to treat expenses related to certain types of arrangements, potentially including direct primary care arrangements and healthcare sharing ministries, as eligible medical expenses under section 213(d) of title 26, United States Code."

Sec. 6 (b), Executive Order on Improving Price and Quality Transparency in American Healthcare to Put Patients First, June 24, 2019
The key word is "potentially" – meaning that the Executive Order has recommended, but not demanded, that the Secretary of the Treasury include Direct Primary Care as an eligible medical expense under the IRS code written for Health Savings Accounts.
So, it's possible that you could legally have a DPC membership AND and HSA account beginning on January 1st, 2020. Or, it might not be possible. But here's the reality…
Who is going to know if you have both a DPC membership and an HSA account?
DPC clinics don't report membership to any entity. You don't have to disclose your DPC membership to your health plan. So it's likely that you can have both, you just won't be able to pay for your DPC membership with HSA monies. Not a huge deal in our opinion.
Option 2: Premera Standard PPO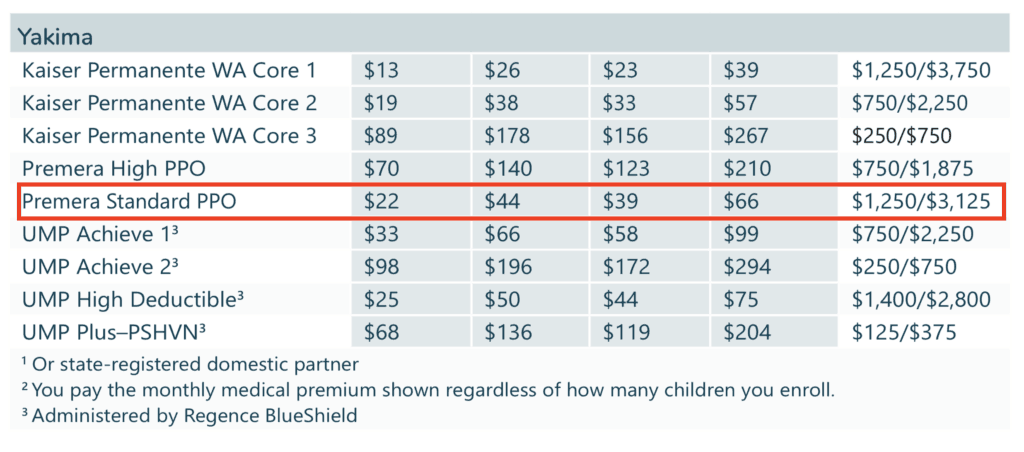 At $22/month for an individual, this is a plan that makes financial sense, and will work well if you choose to pair with a DPC membership.
We won't have any issues referring you out to specialists if we need to (we don't refer out very much, because we do as much as we can in-house), and you'll have something just in case something major happens.
Again – our job is to keep you away from expensive and unnecessary medicine. The job of health insurance should be to take care of you in case something major happens.
Have any questions? Contact us and we'd love to help!